ABOUT US
You are welcome among Friends!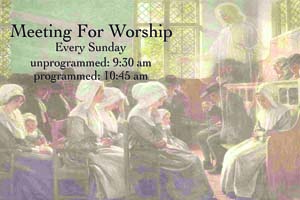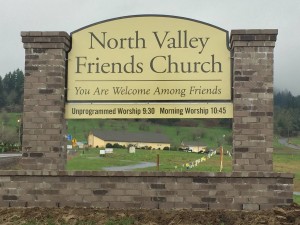 If you'd like to subscribe to a feed of our weekly
podcast
, click here.
Subscribe
Christmas Eve Service
Our Christmas Eve Candlelight Service is December 24, 6 pm.
More About NVFC
If you want to know more about events and happenings at North Valley, click on the announcements listed on the top left corner of this page.
If you need to contact us, you can email the office, or call us at 503-538-5340.
Sunday Worship:
Unprogrammed meeting: 9:30am
Child care is provided during unprogrammed meeting.
Programmed meeting: 10:45am
Children have their places of worship during the second half of the service.
Learn more about North Valley Friends Worship.
Location:
4020 N. College Street in Newberg, Oregon (directions)
Office hours:
Monday, Wednesday, Friday: 9:00 am-1:30pm
Phone: 503.538.5340 // Fax: 503.538.5141
NVFC Directory
If you're part of North Valley, download the directory here. E-mail the NVFC office to receive the password.

Ongoing Process of Discernment
The elders believe that North Valley has consistently had a heart for folks that find themselves on the fringes of Church and society. We heard this reaffirmed during our threshing meeting from a few months ago where we heard a deep desire to do our best to love and include all people.
The North Valley elders invited our community to a first reading of an updated mission statement at our September 18th business meeting. A "first reading" is where we propose a set of changes, and we ask for a response to those changes, but we do not ask for a decision to approve those changes.
We recognize that the words we have chosen will likely invoke a response (either positive or negative) and potentially a desire to make changes or additions. We have gathered this feedback, and we will continue to discern how the proposed change to our mission statement fit where North Valley is today, or not. And, if not, how should we change it to best fit where we are today and who we are today.
The elders would like to express gratitude for the community's response to this 1st reading. We are grateful to those who spoke in business meeting as well as the numerous 1-1 conversations, and the variety of written responses we have received. It has been such a blessing to be part of a rich, thoughtful, and Christ-centered community. Thank you!
The elders reviewed the business meeting minutes and the written responses they have received. They have yet to make any additional decisions; however, they were able to identify themes and have begun to piece together our next steps toward what Christ may be calling us to.